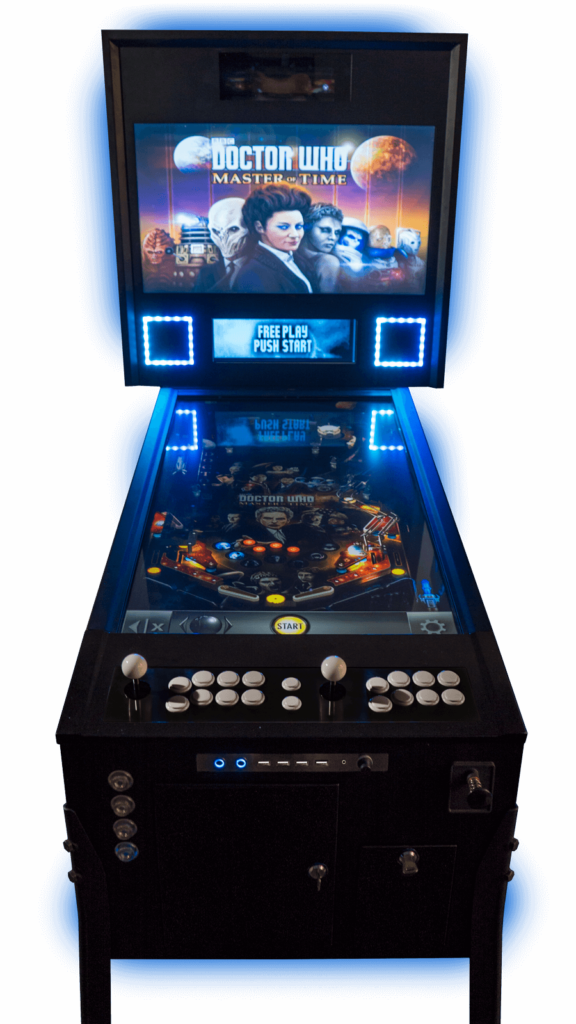 Why Choose Arcooda Pinball?
Arcooda Pinball is different. It's a video pinball, it's a gaming machine, it's endless gaming options. The machines we are building are designed to be enjoyed, with no shelf life – gaming is our passion, and the cabinet's limitation is governed by your imagination.
Arcooda is working with a number of software publishers with the goal of plug and play software. No cabinet modification, software massaging, or high technical experience. Install games and "play".
First and foremost, Arcooda Pinball is a video pinball machine – we have tried to replicate the feel and game play of traditional pinball machines, coils, lights, shaker, tilt/nudge, fans and features are all reproduced. However the biggest advantage is you can have many video pinball tables on the one machine. Easily change from Timeshock Arcade Edition, to Addams Family, to Dr Who Master of Time. And, just keep adding more titles.
We are gamers – so we want to maximise the benefits of our video pinball machine. It supports XBOX 360, XBOX One, PlayStation 3, PlayStation 4, PC, Android, Nintendo Switch – and more (we will explain when the cabinets are released).
Arcooda builds arcade machines, not toys. Everything has been designed by amusement experts and is continuously improved so that you do not need to worry about servicing. If there is a problem, servicing is just a matter of unplug/replug the component and you are back in action. No soldering, multimeters, or technical serviceman call outs – all can be handled by you. Arcooda backs its products with unlimited 12 months warranty.
With the unfortunately loss of the Williams/Bally license, Arcooda Pinball Arcade is now a limited edition product (until sold out). We are working with other software partners to introduce new video pinball titles and "off the shelf" Steam pinball tables work perfectly on Arcooda Pinball. Its very easy to quickly have over 250 licensed video pinball tables….then start adding your arcade games.
We are excited for what the future holds, leading software publishers are interested to cooperate, and we are moving forward shortly with our coin operated series of Arcooda Pinball machines.
New Pinball Cabinets Coming Soon

ARCOODA PINBALL ULTRA
If you are looking for the highest gaming experience, with unlimited options, then Arcooda Pinball Ultra is your first choice.
Steel cabinet construction
43″ Touch Screen Playfield Monitor
32″ Back Glass Monitor
15" LCD monitor
Illuminated LED Lighting
8 Illuminated Pinball Buttons
Interchangeable Control Panels for different gaming genres
Supports all Steam and Console Games (Pinball and Arcade)
And More!
ARCOODA DYNASTY VERTICAL PINBALL
The ultimate space saving machine that brings all your pinball and arcade favorites to you! The Arcooda Dynasty Vertical Pinball Machine features a massive 32 Inch Touch Screen Playfield, 19 Inch LCD Monitor for the backglass and an 8.8 Inch LCD DMD to simulate that traditional pinball feel. It also includes joysticks and buttons for two players, adding in the classic arcade feel to make this machine an all-in-one solution.
The Arcooda Dynasty Vertical Pinball Machine is VR compatible, bringing a whole new level to video pinball gaming. By using plug and play features, players can simply plug in their VR headsets and play all their favorite VR games (including pinball!).
Features Include:
Illuminated LED Lighting
32″ Touch Screen Playfield
Backglass and DMD
Japanese Sanwa Joysticks and Buttons
Interchangable Control Panels
Plays Arcooda Pinball Arcade Perfectly
Supports all Steam Games (Pinball and Arcade)
Wheels for easy transport
And more!!!
Please Send Your Inquiry Below
Australia Office
Address : Ground Floor, 44 Maitland Road
Mayfield East, NSW, 2304 Australia
Phone :    +61 249 689 313
Fax :         +61 249 689 314
Email :     sales@arcooda.com
Hong Kong Office
Address :  Flat 17E,
Skyline Tower
14-18 Tong Mi Road
Mongkok, Hong Kong
Phone :    +852 3595 2660
Fax :         +852 3595 2855
Contact :  Jeremy Choi
Email       :sales@arcooda.com